A full service digital marketing agency
Our team develops effective content strategies for forward thinking companies. We have a proven track record in increasing search engine rankings.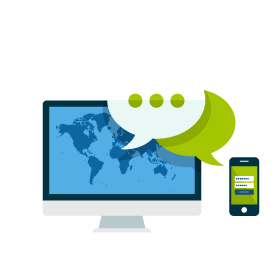 We pursue relationships based on transparency, persistence, mutual trust, and integrity with our employees, customers and other business partners.
About Us
Smartadmedia is a Digital Marketing Consulting and Service Provider. Our value proposition is simple, we are driven by the application of intelligent marketing technology to drive better and smarter marketing and stronger customer engagements. It is the reason we talk about intelligent engagement, and it is already reinventing the sales and marketing models of many businesses.
Advertising has evolved. So do the marketers. Digital advertising allows marketers and advertisers to reach and appeal to their core audiences in new ways and with more precision. Get the strategies and tools you need to grow and scale your business to new heights.Our team of expert media managers at Smartmedia is dedicated to effectively grow businesses by creating marketing funnels that produce leads and sales for businesses.
Smartadmedia is one of the most trusted voices sharing the best of what works in digital marketing. If you're a marketer, entrepreneur, or small business owner, then we can show you how to run effective digital marketing campaigns that drive more traffic, sales, and profit for your company. Best of all, we know our advice works because we actually DO this stuff for a living. Our services includes Consulting, Strategy building, Insights from industry experts and Automation
We have helped clients execute online marketing campaigns that have consistently led to increased sales, fresh leads, and strong communication with customers.
Paid listings on Google AdWords and Microsoft AdCenter can help you reach new customers.
Google Maps Optimization is an important part of any successful local marketing strategy.
Link building is and will continue to be a tremendously important component of Search Engine Optimization (SEO).
O U R    V I S I O N
The most respected Internet marketing agency. We want to change the way businesses speak, listen and share online.
Timeline
Some remarkable events our digital marketing agency went through.
September 2014
Agency started by web enthusiasts Navdeep Singh Sahni in Delhi, India.
Feb 2015
The company's first website version was released and quickly rose to cater 50+ clients!


April 2017
Our pay per click optimization services are used by some of the top companies in the USA.
March 2020
Our company crossed 5 million dollar ad spend in all the paid ads platforms for next generation online marketing.